Bécancour, May 1, 2023 – Groupe Shift is very proud to have been awarded a contract with the American firm Big River Steel. The latter were recently acquired by U.S. Steel, and chose Bécancour for this multi-million U.S. dollar expansion project. Founded in 1901, U.S. Steel is a major steel producer based in the United States and today generates sales of more than US$20.275 billion.
Early in their collaboration, partners Francis Rondeau, Yannick Paradis and Yannick Rondeau were awarded software development contracts from SeverCorr (SDI), North Star BlueScope Steel and R.G. Steel. These implications allow them to acquire skills as well as expertise in designing software specially adapted for the manufacturing industry.
They are then approached by Big River Steel to act as consultants for the development of a steel production management software. It was this opportunity that enabled the three partners to officially launch into business in 2017, creating the Shift Group.
" It started with Big River Steel. Over the years, our experience in the field, our skills, our efforts and our dynamism have been recognized and have allowed a good collaboration with this firm. Our team has worked with them to ensure that the planning and design of this major project respects their needs and objectives," explains Francis Rondeau, President of Groupe Shift.
Groupe Shift has developed tailor-made software that allows them to fully manage the orders and the production process, taking into account the physical and chemical limitations related to steel and plant machinery.
" Our specialization in manufacturing was beneficial for their organization since the implementation of the software was really adapted to their needs. Indeed, our IOM (Integrated Order Management) software has greatly optimized their process. Now, with their expansion, it is essential to continue the evolution of the existing system to make it multi-site, in addition to adding new features that will allow them to ensure greater flexibility, a better control of their internal operations and a continuous improvement of their processes," says Yannick Paradis, Vice-President and co-founder of Groupe Shift and BRS project manager.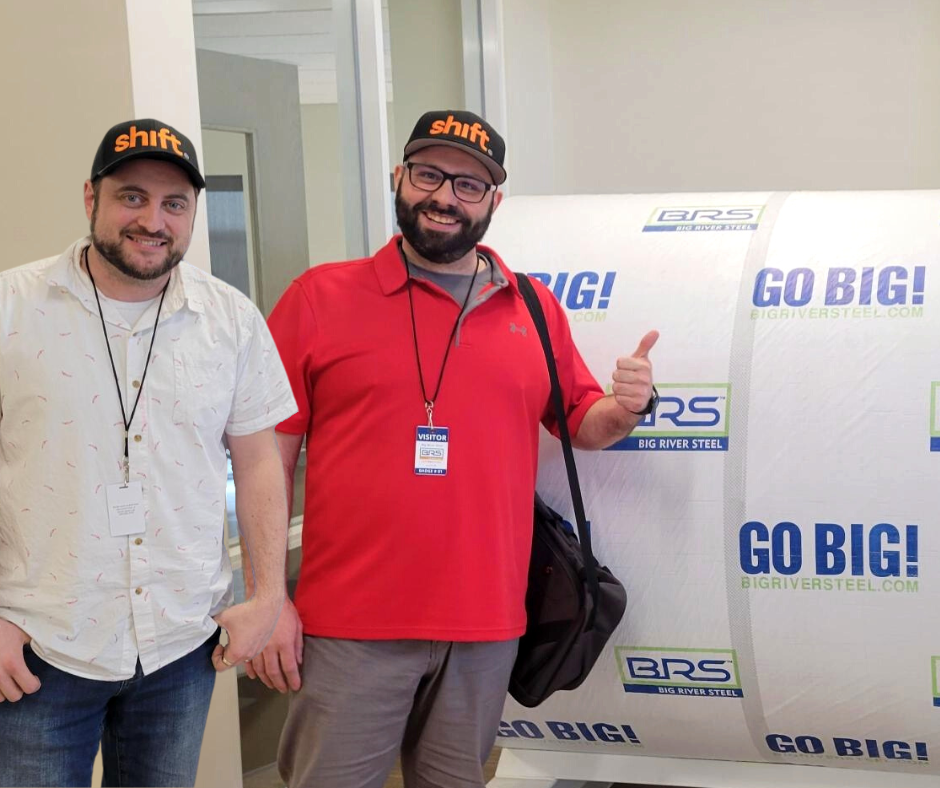 Groupe Shift is very pleased to be able to renew this major contract. This project is a great pride for the company 4.0, but also for the city of Bécancour which stands out once again for its know-how and innovative approach. Francis Rondeau, president of Groupe Shift and also a member of the boards of directors of the Chambre de commerce et d'industries du Cœur-du-Québec and Groupé Mauricie – Rive-Sud, points out that the region is full of specialized businesses, This will have a positive impact on the region's economic development in all sectors of activity and by working with them.
About Big River Steel
Big River Steel has invested $1.3 billion in the construction and start-up of the world's first FlexiTM steel plant, a mini-factory steel focused on producing a wide range of products, including automotive and electrical steel. Since operations began in 2017, Big River Steel has supplied steel products to nearly 200 customers in the automotive, energy, construction, and agricultural industries. Big River Steel doesn't talk about the status quo. Real innovation leads to growth.
About Shift Group
Groupe Shift was founded by a group of computer technology professionals specialized in the industrial and manufacturing field. Located in Bécancour, Centre-du-Québec, the company's mission is to offer businesses, large and small, the means to achieve their ambitions. Become the ally of custom software development professionals! A human support to evolve your team and your organization towards the automation of your processes.
Increase your productivity, start a digital shift.